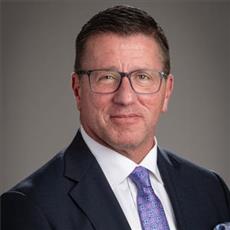 Michael J. Maletteri
Agency President, Agency Chief Executive Officer
CFP®, CLU®, ChFC®, CFBS
Professional Story
Focus Areas
Insurance Strategies, Investment Strategies (Reg. Reps Only)
Biography
Renowned basketball coach, John Wooden, once said, "Success is peace of mind, which is a direct result of self-satisfaction in knowing you made the effort to become the best of which you are capable". Since 1995, Mike has enjoyed coaching both clients and financial professionals along their distinctive paths to success.
A native of Philadelphia, Mike built a successful financial services practice advising clients throughout communities in the greater Philadelphia area. A self-described "student of the business", Mike rapidly earned professional designations to deepen his knowledge and enhance the value brought to clients. Mike's growth-oriented mindset made him a natural choice for leadership and development roles in firms throughout eastern and central Pennsylvania. His efforts have been recognized with numerous accolades and awards including Million Dollar Roundtable in 2006 & 2009 and Sales Manager of the Year at Northwestern Mutual from 2008-2010.
Given his track record of success, in September 2014, Mike was appointed as Agency President of MassMutual Oregon, a firm with well-established roots of over 100 years. Under his leadership, MassMutual Oregon has experienced sustained growth and greater visibility throughout Oregon and SW Washington.
Mike attributes the firm's success to the company culture. In his signature servant-leader style, Mike creates and fosters an environment that provides professionals with one-on-one coaching, structured training opportunities, and personalized development plans to help ensure their success. His investments in the training and development of his team have paid off. The firm has been on the Oregon Business "100 Best Companies to Work for in Oregon" list for Mike's 5-year tenure and is one of the fastest-growing MassMutual firms in the country.
Mike feels fortunate that he and his family can call the Pacific Northwest their home. He is an avid reader of books on the topic of leadership and a passionate Philadelphia sports fan. Mike is grateful for the opportunity to make a difference in the community and is especially proud to support The Leukemia & Lymphoma Society.
Local firms are sales offices of Massachusetts Mutual Life Insurance Company (MassMutual), and are not subsidiaries of MassMutual or its affiliated companies. Agency officers are not officers of MassMutual. Registered representative of and offers securities and investment advisory services through MML Investors Services, LLC. Member SIPC. SIPC Supervisory Office: 5885 Meadows Road, Suite 850, Lake Oswego, OR 97035, Phone: 503-221-1211.
Licensed to sell insurance in: Oregon, Washington, Pennsylvania
Licensed to sell securities in: Oregon, Washington, Pennsylvania, New Jersey, New Mexico, Virginia, Idaho, Montana
CRN202105-247467
Check the background of this investment professional on FINRA's BrokerCheck
Professional Story
Focus Areas
Insurance Strategies, Investment Strategies (Reg. Reps Only), Business Owners, Retirement Income Planning, College Funding Strategies, Business Succession Planning, Risk Management Strategies, Estate Planning
Biography
Knowledge is the key to a successful financial future. Whether your goals include preparing for milestone life events like retirement or college, protecting your family's future or you're simply looking for life, disability income or long-term care insurance protection, I promise a new level of attention, insight and capability.
I am also looking to introduce people to a career as a financial professional where you can take the skills, drive and desire you possess and use them to help individuals and businesses solve their most important financial challenges. Contact me today!
Coverpath - Get a quote for term life insurance

CRN202207-267436
Check the background of this investment professional on FINRA's BrokerCheck
Personal Story
Education
University of Washington, 1987-1990
Hobbies
Golf, College Sports, Leisure activities
Polly Meek
Senior Vice President
Professional Story
Focus Areas
Insurance Strategies, Investment Strategies (Reg. Reps Only)
Biography
Polly has been in the financial industry since early 2014. She is passionate about helping clients and advisors reach new heights and becoming better versions of themselves. Polly has seen the good, the bad, and the ugly of the financial world, and she strives to help others have a healthy relationship with money and feel confident of their planning.
In her career, Polly has served in a variety of capacities including running an advisor practice, recruiting new talent, designing systems and processes, and coaching and mentoring advisors and interns. Polly also has participated in national leadership programs as well as several national and regional committees.
Polly obtained her MBA from Willamette University in Salem, Oregon in 2013. While at Willamette, Polly met her husband, Mark. The two married in 2015. Together, they have two children, Owen and Madeline. Polly and Mark are avid Seahawk and Blazer fans and have a goal to watch the Seahawks play at every stadium across the country. Polly enjoys taking an active role with her kids, including coaching them in their favorite sports.
CRN202304-282141
Check the background of this investment professional on FINRA's BrokerCheck
Personal Story
Education
Willamette University - Atkinson Graduate School of Management (2011-2013), Western Oregon University (2004-2008)
Hobbies
Spending time with family, watching or playing sports, hiking