SpecialCareSM Resources
Are You As Prepared As You Think?
What is a Special Care Planner?
Financial professionals with specialized training in helping people with special needs and their life care plan who work by a set of core values: integrity, honesty, teamwork, and respect.
Have earned our clients' trust and admiration by emphasizing the quality of service and relationships.
Our professional associates combine knowledge and years of collective experience.
Special Care Planners work with you and your professional advisors to review your financial situation and offer options that will best benefit you, your loved ones, and your entire family.
A Special Care Planner receives advanced training and information in estate and tax planning concepts, special needs trusts, government programs, and the emotional dynamics of working with people with disabilities and other special needs and their families.
A Special Care Planner should have or be working toward getting their Chartered Special Needs Consultant (ChSNC®) designation which is awarded to those individuals who've completed 120 hours of academic classes in addition to holding either Chartered Life Underwriter (CLU), Chartered Financial Consultant (ChFC) or Certified Financial Planner (CFP) designations and previously completing the Special Care Planner certification program. The ChSNC designation was developed by The American College in Bryn Mawr, Pennsylvania. The certification program and the professional designation evolved from MassMutual's SpecialCareSM Program.
Traditional Planning vs. Special Needs Planning. How is it different?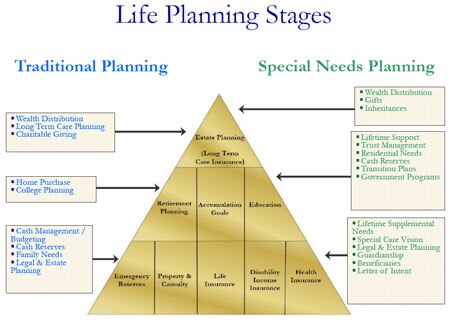 Traditional Planning Timelines vs. Special Needs Planning Timeline. Do you know the difference?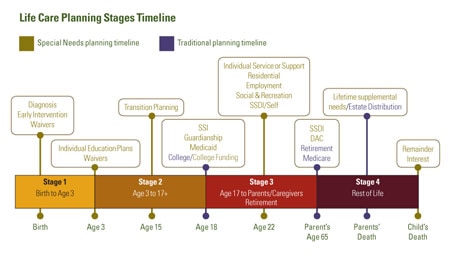 Video Links:
Additional information about MassMutual's SpecialCareSM Program